The company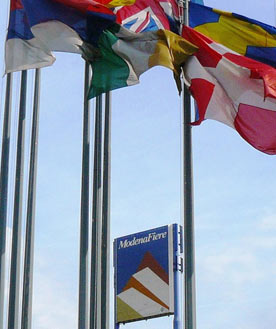 The
ModenaFiere
Exhibition Centre was established in 1989 by local institutions in close collaboration with the most representative trade associations and co-operatives of the province.
That year
BolognaFiere
and
Modena
and
Ferrara
local and economic authorities have realized the first European example of a fair polycentric metropolitan system of three cities who shares an economic and cultural reality of the top level, with dynamic planning, concreteness operational, research capabilities, experimentation and entrepreneurship.
In
1995
, when Modena had already become a fully-fledged member of the exhibition system, it was decided to
establish Modena Esposizioni Srl
, a company owned by BolognaFiere, as majority partner, the Municipality of Modena and PRO.Mo, a consortium of all the business institutions of Modena.
In 2008 was approved the change of business name from Modena Esposizioni to
ModenaFiere srl
and a capital increase from 200 thousand to one million and 700 thousand Euro. In the new corporate structure have joined two new partners, before present just indirectly through PRO.Mo.
The current company is represented as follows:
51 % BolognaFiere Spa
14,608% Municipality of Modena
14,608% Municipality of Modena
14,608% C.C.I.A.A.
5,176% PRO.Mo .
Today
ModenaFiere
is an important element of qualification and integration of the entire regional fair system and a relevant economic trade for the city. Is able to giving the suitable visibility to the vocations and the production excellences of its belonging area, perfect strategic showcase for an effective territorial marketing. The attractive strength of Modena's fairground is based on the offer's quality: many events are known across the border and are distinguished by the quality, level and uniqueness.