Services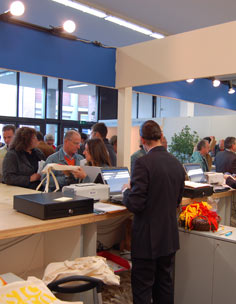 Fair services
- Secretariat's organization and management
- Fair services' organization and management
- Design and implementation of comprehensive fitting congress and exhibition areas
- Organizational collaboration and hospitality conferences, corporate events, meetings, conventions, dinners, competitions
Technical services
- Round-the-clock technical assistance during events
- Assistance for technological services
- Air-conditioning
- Distribution of electricity
- Electric and water connections
- Electric connections test
- Survey of installed powers
- Compressed air
- Certifications and tests of exhibitions facilities
- Telephone exchange
- Control of pedestrian and vehicle accesses
- Ticketing
- Organization of internal car park
- Organization of external car park
- Security and first aid
- Armed security
- Fire-fighting assistance
- Smoke and fire detection system
- Medical care
- Insurance coverage
- Cleaning
- Removal and disposal of waste
- Snow shoveling
- Sanitary facilities coverage
- Photo shoot
- Flower decoration
- Sign-making
- Hire of advertising spaces and "rotors"
- Porterage and transports
- Fittings for audio amplification and registration system
- Simultaneous translation system
- Diffusion of sound messages
- Services of projection, video projection, video recording and audiovisual system
- Videoconferencing
- Rear projection screens
- Interactive multimedia system
- Radio microphones
- ISDN/ADSL lines
- Telephone connections
- Wireless connections (with link Wifair)
- Realization of the conference proceedings CD-ROM
- Other services activated on request
Parks
Around ModenaFiere a crown of parking is developed, partly free and partly supervised and paid, for over 6000 auto places.
Paid parks' access is endowed with an access control system automated and is facilitated by our staff continuously active during the events.
When the outdoor surface of the pavilions isn't used for exhibitions, it can act as parking for cars with a special badge exhibitors and visitors.
The access to these free parks is supervised by security staff with that verifies the right to access, without responsibility for guarding.
Restaurants
A self-service and three cafes, distributed in strategic points in ModenaFiere, ensure the refresh, with different level of quality and price.
Further more spacious premises for the organization of banquets, buffets, coffee breaks, lunches, etc, are realizable within the halls through focused fittings and managed by different catering operators.